BIG KAISER Promises High-Performance Tooling Systems at EMO
28 August 2017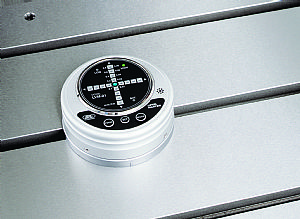 As a global leader in premium high-precision tooling systems and solutions for the metalworking industries, BIG KAISER will present its extensive portfolio of high-precision boring tools at EMO in Hannover, Germany from the 18th to the 23rd of September. Located on Stand B46 in Hall 3, BIG KAISER will provide visitors with the opportunity to view its full range of machining solutions and cutting tools whilst consulting with experienced technical experts.

For UK manufacturers that canít make it to the Hannover Fair, the four newly announced product launches at the show will be available from UK cutting tool experts Industrial Tooling Corporation (ITC).

The four new product innovations that will be launched at EMO will include the new EWE Digital Fine Boring Head with Wireless Connection. This line of second- generation boring heads incorporate wireless connectivity to BIG KAISERís user-friendly Smartphone and tablet App for simplified tool monitoring and configuration. With the first generation line of precision boring heads proving particularly popular among ITC customers, the latest edition is certain to prove a hit.

Alongside the next generation EWE system, BIG KAISER will be launching its new Torque Fit system at EMO. This new collet chuck tightening fixture with an integrated buzzer torque indicator and LED over-tightening error indicator guarantees high-precision tightening and exceptional machining results.

The impressive new Torque Fit innovation ensures that customers can maximise precision, torque and clamping forces placed upon cutting tools. Another new arrival at EMO will be the Level Master WL. This new version of BIG KAISERís two-axis level detector with wireless connectivity simplifies accurate level setting of the machine tool bed by transmitting tool information to a remote display device.

The final new product launch for EMO will be the C-Centering Cutter. This multi-functional cutting tool is ideal for both spot drilling and chamfering. The unique tool design and geometry incorporate an anti-chipping negative land with a formed nose for spot drilling, which delivers significantly extended tool life. This tool life and performance is further enhanced by a through coolant system that directs fluid straight to the cutting edge for astounding chip evacuation.

An attractive exhibit at the show will be the world's fastest two-stroke motorcycle, the Suter 500 from BIG KAISER's official technology partner Suter Racing. "Our theme for the EMO is 'higher performance guaranteed', where some of the finest tools in the industry hold their own with the real-world technological excellence of Suter Racing," explains Taku Ichij, CEO at BIG KAISER.

"Suter shows just what can be achieved by aligning intense dedication and sincere enthusiasm with leading-edge engineering know-how Ė an approach much in line with BIG KAISER's philosophy."

ITC will have engineers on hand at the exhibition to provide technical support and assistance on the BIG KAISER stand. Of course, for those engineers that cannot make it to Germany for the exhibition, the ITC team will have all the latest products available from September onwards. In addition, the Tamworth cutting tool manufacturer will be introducing the new BIG KAISER product lines at UK manufacturing exhibitions over the next 12 months and beyond.