CHIRON Group and Greidenweis combine automation expertise
19 April 2022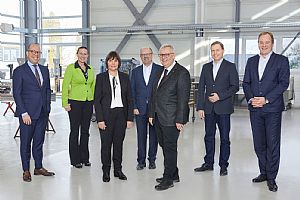 The CHIRON Group SE has acquired Greidenweis Maschinenbau, a specialist in automation systems for the automotive industry. As a result, the CHIRON Group portfolio that is available in the UK from the Engineering Technology Group (ETG) will now be offered with more automotive assembly and automation systems than ever before.

One of the CHIRON Group's core competencies is turnkey solutions for machining processes based on machining and milling/turning centres of the brands CHIRON, STAMA and FACTORY5. The demand to automate turnkey solutions is continuously increasing, as are the workpiece and industry-specific customer requirements. This applies to single-part production in tool manufacturing and precision technology as well as to series production in the mobility sector. The CHIRON Group's product range meets the diverse automation tasks with integrated automation solutions, autonomous stand-alone solutions, the linking of machining centres and their process and system integration in assembly and production lines.

Greidenweis is a system supplier for the automotive industry. In addition to its development and assembly of machines and systems for laminating, joining and gluing, Greidenweis has positioned itself competently in process and system integration. One example of this is the fully automated complete assembly of components for vehicle interiors using several processing stations. The 60-employee company has many years of experience in integrating various technical solutions into automated assembly systems and production lines.

It has also successfully installed these in other industries. Greidenweis has developed its expertise in mechanical engineering and holistic automation solutions to a high level through consistently implemented overall process support - design with CAD/CAM and 3D technology, robot simulations, project control, manufacturing, assembly, commissioning, and service.

Carsten Liske, CEO of the CHIRON Group SE, and Michael Greidenweis, owner and Managing Director of Greidenweis Maschinenbau GmbH & Co. KG, have set the course for this joint future and as of January 2022, Greidenweis Maschinenbau is a 100% CHIRON Group company.

The CHIRON Group and Greidenweis will each concentrate on the further development of their traditional core businesses. With the strategic and operational cooperation, both companies also want to offer their customers attractive, future-oriented solutions through optimised and new combinations of products, competencies and know-how. The aim is to make machining, assembly and production processes even more efficient with innovative automation solutions. This applies to the process automation of large-volume components as well as to complex production lines from the blank through machining and associated processes to end-of-line testing.