Floyd Extends High-Pressure Coolant Hose Line
17 July 2017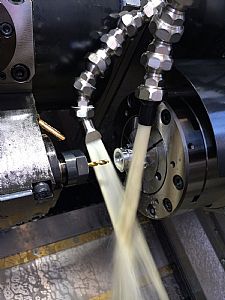 The HIRT-Line range of stainless steel adjustable and lockable coolant hoses and nozzles have been a revelation since the product was recently introduced to the marketplace. Directing coolant to the target area and solving the problem of continually moving and frequently breaking coolant hoses, the HIRT-Line range has now been extended with the arrival of the new Type-0, 3.18mm (1/8") diameter series.

The popularity of the HIRT-Line range of stainless steel coolant hoses has seen the range extended for the second time since its product launch. Initially introduced in two sizes with a Type-1, 5.8mm outlet diameter nozzle and a Type-2, 11mm diameter outlet nozzle; the third addition was the largest Type-3 hose with an output nozzle of 19mm (3/4"). However, following the relentless sales of the two initial Type 1 & 2 sizes, plus the success of the Type-3, the Swiss fluid management experts have now developed the Type-0 for particularly small machine tools that demand intricate and precise coolant delivery.

With the working envelope of a machine tool being a hostile environment, the robust and corrosion resistant HIRT-Line is a welcome addition to all types of machine tools. Whilst the larger hose connections can be applied to turning centres and machining centres alike, the new smaller Type-0 3.18mm hoses will be ideal for intricate machining processes on sliding head turning centres and machine tools with limited work envelopes.

The jointed hose is made of stainless steel for a service life that will match that of your machine tool. The corrosion resistant parts of the HIRT-Line hoses are precision engineered and resistant to heat and chemicals. The user-friendly hoses can be easily screwed together by hand and they can be lengthened and shortened to meet the needs of the end user. The completely adaptable system is robust and rigid, so no level of coolant pressure or machine vibration will change the position of the hoses. The HIRT-Line hoses are pressure resistant up to 100bar and the universal adaption enables the hoses to be used on lathes, machining centres, grinding centres and complex manufacturing systems whether it is for the delivery of fluid or air to the target area.

With the corrosion resistant and rigid hoses now available for particularly targeted applications in machine tools, isn't it time you took a look at the HIRT-Line coolant hoses? They may be the last coolant hoses you'll ever need....