Floyd Gets Into Gear With New HOBit Hobbing Line
23 June 2017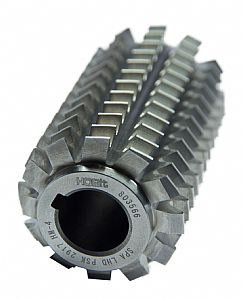 Floyd Automatic Tooling has now launched a new program of gear cutting tools from Hommel & Keller. Introduced under the HOBit brand, the new range incorporates a complete series of disc cutters, bore and shank type hobbing tools as well as shaper and power skiving cutters that can all be manufactured to customer specifications.

The new brand has been developed by the gear cutting experts at Hommel & Keller to cater for the rising demands of hobbing tools from end users familiar with the quality, precision and capability of the company's specialist knurling tools and wheels that are well known as the Zeus brand. Globally renowned as the industry benchmark in knurling products, Hommel & Keller has now developed its own hardening technology and PVD coating division, which makes the new HOBit line so formidable.

The exciting new HOBit gear cutting and hobbing tools are manufactured to customer demands with HSS, PM and solid carbide tools offered. Furthermore, the new HOBit series is available with a variety of coating technologies that include TiN, TiCN, TiAlN, nACo. nACo3 and nACRo with a host of alternate coatings available upon demand. This wealth of selection ensures that the new HOBit product lines can deliver optimum performance levels, astounding tool life and productivity that will surpass all other products, regardless of your process.

The vast array of standard and specialised HOBit products can be suited to customer demands with geometries and tooth angles and the subsequent tooth numbers machined with absolute precision. This unprecedented level of precision extends to all facets of every product in the HOBit line up.

If you're not sure of the process performance benefits you can obtain from the HOBit Series, get in contact with the cutting tool experts at Floyd Automatic Tooling. The expertise of the Baldock based cutting tool specialists will guide manufacturers through the efficiency, productivity and cost saving benefits of the HOBit range. Furthermore, as industry experts Floyd Automatic will provide a long term service package that incorporates everything from design and manufacture through to re-grinding. For further information, please contact Floyd Automatic Tooling.