Floyd Plays it Cool With New CrazyMill
20 April 2022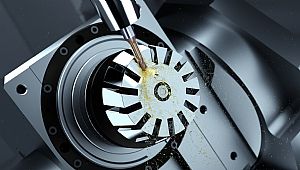 Now available from Floyd Automatic Tooling is the latest cutting tool innovation from Mikron Tool. The new CrazyMill Cool P&S square and corner radius series of end mill is an exciting new 3-flute tool with patented coolant supply ducts integrated into the shank – a feature that Mikron Tool has developed specifically for rough and finish milling of stainless steels, titanium and aluminium based superalloys and also nickel-chromium based superalloys.

The versatility and geometry of the new CrazyMill Cool P&S also make it very well adapted for application on materials such as steels to 40HRc, cast iron, non-ferrous metals and plastics. Based on its ability to plunge vertically to 1XD and ramp at 45-degree angles, the new CrazyMill Cool P&S becomes a 'plunge-mill' capable of milling and drilling applications, making it especially suitable for milling grooves, pockets, face and side milling in the smallest of spaces as well as linear ramp milling.

The new solid carbide end mills are available in diameters from 1 to 3mm in 0.1mm increments and up to 8mm with imperial dimensions also available. The impressive new series is available as a Type A and Type C variant. The Type A end mills are manufactured with an optimised 2.5XD geometry for robust machining of challenging materials and high material removal rates. The Type C end mills provide a 5XD geometry for reaching into cavities and machining complex profiles.

The 2.5XD end mills are supplied with a corner radius from 0.1 to 1.5mm depending upon the diameter selected and the range has a shank diameter from 4 to 12mm with an overall length from 40 to 70mm with an effective flute length from 2.5 to 20mm. In comparison, the longer 5XD variant is also offered with 0.1 to 1.5mm corner rads with shank diameters from 4 to 12mm. However, the 5XD CrazyMill Cool P&S has an overall length from 40 to 90mm with a shank neck from 5 to 40mm with an effective flute length of 2 to 16mm. This provides exceptional rigidity and performance, even when reaching into the deepest of cavities.

The CrazyMill Cool P&S is manufactured from a micro-grain carbide that demonstrates the perfect hardness to toughness ratio. This robust platform is coated with Mikron Tool's eXedur SNP coating technology which is a high-performance heat and wear-resistant coating that also assists the chip removal process. This is complemented by a customised flute and relief angle design that combine to demonstrate an extremely stable cutting-edge angle that prevents the lateral hooking-up and edge chipping that is often caused by excess vibration. The enlarged flute channels create sufficient chip space clearance whilst maintaining tool strength and integrity to allow impressive chip evacuation.

The chip evacuation is further enhanced by the patented coolant channel ducts whereby 3 to 5 ducts (depending on shank diameter) provide a constant and massive coolant stream that flushes chips from the cutting area to prevent swarf re-cutting and over-heating of the cutting edges. This cooling concept is especially well adapted for pockets and slots, as chips can be flushed, even from tight spaces. The coolant ducts guarantee longer tool life and facilitate higher chip removal rates when compared to conventional types of carbide milling cutters with external coolant supply.