Floyd Taps Into Complete Threading Range
1 May 2022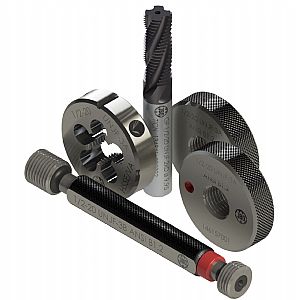 Floyd Automatic Tooling has now been announced as the new UK and Ireland distribution partner for German cutting tool brand JBO. Recognised as one of the world's leading manufacturers of precision tools for manufacturing and checking threads, the JBO range will undoubtedly enhance the threading portfolio available from the Baldock based cutting tool experts.

Established in 1849, the heritage and quality of the JBO brand is beyond reproach and this high-quality brand is now available to UK manufacturers through the 'go-to' tooling company for sliding head turning workshops. The JBO brand encompasses thread milling cutters, shell type thread milling tools and combination tools, PCD, CVD and CBN tools, high-performance thread cutting dies and rolling dies and precision thread gauges.

With such an expansive range of options, Floyd Automatic will be paying particular attention to the thread milling, threading dies and gauges. With more than 80 pages in the JBO thread milling catalogue, the options now available from Floyd Automatic is beyond extensive. As an overview of the thread milling options, JBO manufactures threadmills for all metric, metric fine, Whitworth, UNC, UNF, UN, UNJF and NPT plus a host of other thread form designations. Within the thread geometries, Floyd can offer everything from standard solid carbide threadmills to tools with chamfers, special tools, coated tools for challenging materials and combination tools from M1 upwards. Optional threadmill geometries and designs take the JBO range beyond anything else feasible from alternate suppliers in the UK – and that is before even getting into special tool requests. With such a wealth of options, JBO has also developed JBOtronic – it's programming software that enables customers to programme threading cycles with unparalleled ease of use.

Like the expansive threadmilling series, the threading dies are equally impressive with all recognised thread designations and pitches available with solid carbide, coated, high-precision solutions and thread rolling options. The range is expanded to meet the needs of the individual user with special options available that include special dies with projected noses for confined spaces, re-cutting dies, split dies, special dies for external threads inside bores, bell form dies for cutting two dies simultaneously, deburring tools for cross-drilled holes, coated or uncoated elastic thread cutting dies and more. JBO retains stock of over 13,000 die sizes and types for threading from 1 to 250mm, so whatever the requirement – Floyd Automatic can solve your threading issues.

With the unsurpassed range of threading tools available, JBO has an equally impressive range of precision thread gauges to match. As the market leaders, JBO has more than 10,000 different thread dimensions and tolerance bands from 0.5 to 300mm available for quick delivery to UK manufacturers via Floyd Automatic. The thread gauges include go and no-go gauges, box sets of plug and ring gauges, extended thread length gauges and also the Multicheck range of digital gauges. So, whatever your threading and thread gauging and tolerancing requirements – Floyd Automatic Tooling is the 'one-stop' supplier for all your needs.