hyperMILL® CAM Software Aids NASA's Knowledge Quest
9 July 2020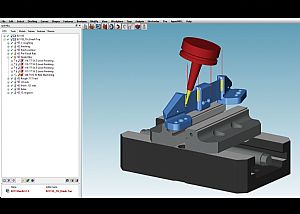 OPEN MIND Technologies has announced that Ramco Machine LLC is using hyperMILL® CAM software and 5-axis machining strategies to make parts for an advanced NASA satellite mission. The mission, named Transiting Exoplanet Survey Satellite (TESS), is credited with discovering its first circumbinary planet - a world orbiting two stars.

In 2017, Ramco was contracted by MIT Lincoln Laboratory (Lincoln, MA U.S.A.) to fabricate the critical camera mount brackets for an important NASA TESS satellite mission. NASA's TESS mission is designed to explore and survey nearby bright stars to analyse planets, both smaller and larger than earth, as the planets circle their host stars and the earth orbits the sun. In 2018, a solar powered in-space satellite equipped with four ultra-sensitive cameras was launched aboard a two-stage SpaceX Falcon 9 rocket on its journey beyond earth's solar system to outer space. The four-camera system developed at the MIT Lincoln Laboratory monitors the brightness of more than 200,000 stars and searches for minute drops in brightness as the planets transit in front of each star.

Making the mounting brackets required machining Invar, a nickel-iron alloy with a low thermal expansion coefficient, allowing it to meet the rigors of launch whilst enabling it to compensate for the extreme temperature swings of outer space. The mounting bracket has exceedingly tight tolerances with the central rib thickness of 1.27mm +/-0.025mm. The perpendicularity between surfaces is held to 0.025mm and the bracket's two opposing surfaces must be in-line with each other to within 0.025mm.

To cut Invar and achieve the required tolerances, Ramco used 5-axis profile finish tool paths generated by hyperMILL®. By doing this, an accurate finish across each part was achieved, keeping the parts within the very tight tolerances required whilst providing astounding surface finishes.