hyperMILL CAM Package Now Incorporates Industry 4.0 Solution
16 December 2017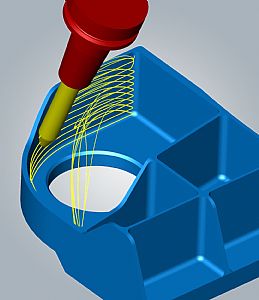 OPEN MIND Technologies is set to exhibit its NC code-based hyperMILL® VIRTUAL Machining Center machine simulation for the first time in 2018 at Southern Manufacturing. On Stand D225 at the FIVE Farnborough venue from the 6th to 8th February, the developer of CAM/CAD software and post-processors will also offer show visitors a demonstration of hyperMILL® version 2018.1 and the hyperMILL® MAXX Machining performance package.

Milling tasks that use powerful 5-axis machining centres are becoming more diverse, making a reliable machine simulation more important than ever before. With its hyperMILL® VIRTUAL Machining Center, OPEN MIND has developed a solution that uses the NC code after the postprocessor run, as the basis for the simulation. This ensures that the virtual machine movements correspond exactly to the real machine movements.

Maximum efficiency with hyperMILL® MAXX Machining
The hyperMILL® MAXX Machining performance package with its three highly efficient modules for roughing, finishing and drilling promises a major boost in efficiency. Manufacturers that use these innovative CAM strategies will be able to achieve time savings of up to 90 percent during finishing and time savings of up to 75 percent during roughing. Visitors to the show will experience first-hand, the enormous potential for savings that can be achieved, especially with the 5-axis tangent plane machining strategy.

What to look forward to with hyperMILL® 2018.1
2D contour milling on the 3D model strategy will make it much easier to program vertical surfaces. The milling contour is generated automatically by selecting the perpendicular surfaces. hyperMILL® 2018.1 will also offer Autodesk Inventor users new functions for 5-axis swarf cutting with one curve. Users can create perfect surfaces and curves for swarf cutting quickly and easily using a simple surface selection that is based on the selected geometries. For more details, please come and visit stand D225 at the Southern Manufacturing event at Farnborough or come and see us at MACH 2018 in April.