Kerf Cuts A Bright Future for Scottish Steel Working Company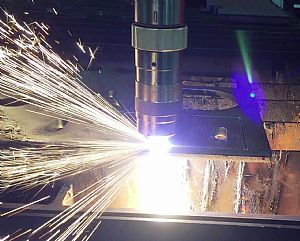 Evolving from a small blacksmiths to a 1.5 acre site, John Thorburn & Sons Ltd has grown beyond recognition during its 70 year history. The family run business that specialises in the construction, agriculture and commercial steel-working sectors has always invested in the latest technology to underpin its continuous growth. This investment has now seen the Scottish company invest in an UltraSharp plasma cutting machine from Rochdale based Kerf Developments.

Employing over 50 staff that operate a variety of turning and milling centres as well as punching, pressing, fabricating and guillotine equipment, the modern-day business primarily manufactures, fabricates and erects agricultural buildings and structures. To manufacture the numerous components that constitute a complete steel building structure, Duns based John Thorburn & Sons relied upon its guillotine, punching, steel working and fabricating equipment until the arrival of a Kerf RUR2500 plasma cutting machine.

Commenting on why the company bought the Kerf RUR2500, Managing Director and grandson of company founder John Thorburn Snr, Mr John Thorburn says: "We recognised that our method of cropping, punching and drilling plates was cumbersome, time consuming and slowing down our throughput. All our jobs had to be handled and re-worked on a variety of different machines to arrive at a finished part. Additionally, we had to stock a large range of steel bar widths and thicknesses and this was taking a lot of floor space. Kerf has instantly eliminated all of these issues."

John Thorburn & Sons investigated the various options and it arrived at the conclusion that Kerf Developments had the most suitable solution for its needs. The Berwickshire business specified the RUR2500 with a 6m by 2m bed, so it could comfortably fit 4m by 2m by 20mm thick plate on the machine. This bed capacity enables the company to use the nesting facility on the Kerf machine to cut up to 50 stanchion base plates in a single set-up.

Raising the Bar on Profitability
The stanchion base plates that are required in considerable batches for the assembly of agricultural buildings were previously cut from 400mm by 20mm thick steel bar that was 6,400mm long. By purchasing 4m by 2m by 20mm thick plates instead of bar, the company instantly reduced material costs by over 30%. In fact, Mr Thorburn has calculated the change from bar to plate has taken stanchion material costs from £15 to less than £10 per unit. Furthermore, the nesting software supplied with the RUR2500 machine enables John Thorburn & Sons to set up a plate and instantly cut a batch of parts, further maximising material utilisation and reducing costs.

"The material savings have been significant for us, but this is just a by-product of the Kerf plasma. We bought the machine to streamline productivity and it's certainly done that. Stanchion plates used to require manual cropping, punching and drilling. This prolonged process would require several machines and it was a full-time job for our staff. The production time used to be almost 20 minutes per plate; the Kerf plasma has reduced this to less than 2 minutes. That is a massive cycle time saving, which is enhanced by the fact that our staff can set the Kerf machine up and then carry-on with welding jobs."

Taking the setting up and nesting process a set further, the 6m bed enables John Thorburn & Sons to set up a range of plate sizes, meaning a complete inventory of parts for a project can be processed in a single set-up. The 275 amp machine is powered by the Lincoln Electric Spirit plasma unit and by utilising Kerf's Ultrasharp technology, the customer can cut profiles, holes and slots with impeccible precision levels and edge finishes.

The ability of the Ultrasharp system to cut precision holes from the 20mm thick steel plates has cut cycle times on the end plates the company produces for steel building rafters. As Mr Thorburn recalls: "Some end plates would need up to 12 holes per plate with different location points and diameters. This would require each plate to be cut, have the first hole punched or drilled and then the second hole and so on. This process would see each plate handled multiple times, slowing the production cycle. Each plate used to take upwards of 30 minutes to produce, the Kerf RUR2500 now does each plate in less than 3 minutes. This means a batch of plates that would take 3 days to produce can now be made on the Kerf machine in a few hours."
As well as achieving the desired impact on production times and throughput, John Thorburn and Sons has also been making savings on its gas consumption. As Mr Thorburn continues: "We were using high volumes of oxygen and acetylene for manual fabrication work. This cost of £600 per month has been eliminated and whilst the Kerf plasma has consumable costs, they are nominal compared to what we were spending previously. "
Kerf Takes The Business Forward
As a result of acquiring the Kerf UltraSharp plasma machine, the Scottish company has streamlined production, reduced steel stockholding, freed machine tool and labour capacity and also reduced material and consumable costs. As a result of releasing this extra capacity, the company has now started offering subcontract cutting services as well as targeting a wider variety of work in its core market segments. As Mr Thorburn continues: "We are now taking on work such as cattle handling parts, steel flanges, grain handling, cattle feeding systems and much more. The RUR2500 has made a huge difference to our business and as we move forward, the Kerf machine will propel us into new market segments with our new capabilities. We're delighted with the machine; it's done everything we wanted and much more."