Kerf Quality Shines Through at MACH 2018
22 April 2018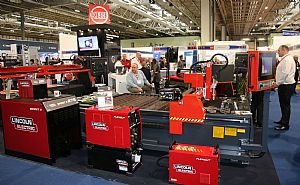 The new floor-plan at MACH 2018 certainly reaped rewards for Rochdale based Kerf Developments. The plasma, waterjet and oxy-fuel cutting manufacturer yielded a greater number of sales leads from a more diverse client base than at previous MACH exhibitions.

MACH 2018 was the launch-pad event for the new Plasmaster HD (High Definition) and the PythonX™ robotic plasma structural steel fabrication system and both machines along with the established RUR and RUM machines were hugely successful among visitors.

Commenting upon why the show was such a success among a diverse audience, Kerf Developments Sales Director, Mr Craig Walsh says: "The new Plasmaster 3015 was on show at MACH and this machine really excited visitors with its cut-quality and flexibility at such an affordable price-point. The Plasmaster was on-show with the Lincoln Electric Flexcut 125 and the 200HD high-definition plasma unit with example test pieces to highlight the cut-quality and precision available at such an affordable price. The cut-quality of the machine astounded stand visitors and as a result we sold two Plasmaster machines with the 200HD plasma unit at MACH to a sheet metal company and another to a fabrication business. However, we also had toolmakers and subcontractors showing interest. These inquisitive and forward thinking manufacturers were interested in how they can rapidly cut material to near net shape to significantly reduce downstream cycle times such as rough machining times on machine tools."

Alongside the extremely popular Plasmaster was the established RUR2500 and the heavy duty RUM4500 machine with four cutting heads on a single gantry. "We received more than 150 serious enquiries at MACH and with three plasma machines on the stand; the majority of enquiries were for this technology. However, we had a significant number of leads from manufacturers interested in our waterjet and oxy-fuel range. In the weeks after MACH, we would expect to convert 7-10 leads into machine sales with more expected in coming months. We actually sold an RUR machine just before MACH that was an enquiry from MACH 2014!"

At the other end of the scale from the Plasmaster range, the PythonX™ robotic plasma system was hugely successful among manufacturers in the structural steel industry. "Whilst the PythonX™ represents a new innovative method of manufacture, show visitors could see the potential of the machine to replace 5-6 existing machines through its high level automation and productivity. This machine really is something that is astounding to see in action. People passing the stand were watching the PythonX™ footage on our monitors and stopping in the aisles and with Lincoln Electric experts on-hand; we could discuss applications with interested attendees."

"Overall, MACH 2018 was hugely successful for Kerf and if we could, we'd do MACH every year. The comments on the technology and cut samples that we had on show were very complimentary; MACH was most definitely a major success for Kerf," concludes Mr Walsh.