Lightweight Angle Head From ITC Increases Accuracy and Productivity
11 June 2017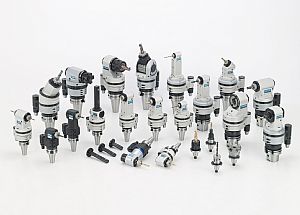 Tamworth cutting tool specialist Industrial Tooling Corporation (ITC) has now announced the arrival of the new AG90 fixed 90-degree angle head from BIG KAISER. The new AG90 is a lightweight system with a BT30 (BIG-PLUS) taper that is regarded as one of the worlds lightest and most robust angle heads.

As part of the BIG KAISER family of angle heads, the new AG90 weighs less than 2kg, making it compatible with the automatic tool change system on small machine tools. By allowing vertical, horizontal and angular operations without repositioning the workpiece, BIG KAISER angle heads increase accuracy and productivity. Being able to use just a single set-up also change the angle of the cutter through a 360 degree range, speeds up production and eliminates errors due to multiple set-ups. The new angle head also enables users to benefit from new capabilities without replacing existing machine tools.

"The new AG90 combines advanced design features and high quality components while keeping its weight down to the absolute minimum," says Peter Elmer, CEO of BIG KAISER. "It complements our existing range of angle heads, which enable customers to find the right solution for almost any application."

The AG90's compact design minimises overhang and this adds rigidity and strength. Furthermore, the reduced overhang also eliminates interference with the ATC and adjacent storage pockets in the tool magazine.

An advanced non-contact seal is incorporated into the AG90 to prevent coolant and particle contamination. Additionally, a unique coolant jacket efficiently directs coolant coming through the stop block to the edge of the cutting tool while simultaneously cooling the angle head. To minimize noise and vibration, the AG90 is made from superior quality components that include hardened and ground chrome-nickel steel spiral bevel gears, super precision hardened and ground spindles and high precision angular contact ball bearings.

ITC can provide a variety of BIG KAISER angle heads such as the AG90 family for milling and drilling or the AGU30 with an adjustable angle. In addition, numerous special options can be acquired via the ITC engineers whilst the AG90 angle head is available in a wide range of tapers, lengths and designs. For further details on how the AG90 can improve your machining processes and reduce set-up times, please contact ITC.