Nederman Introduces New Explosion Isolation Flap Valve
24 September 2017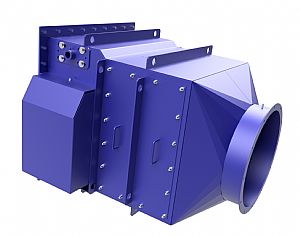 To ensure that dust collectors installed in combustible dust applications meet the stringent ATEX-regulations, Nederman now introduces its new CARZ-N Explosion Isolation Flap Valve. In manufacturing facilities where combustible dust is generated during production, Nedermanís primary objective is to create a safe working environment with high production efficiency. With these factors considered, the new CARZ-N Explosion Isolation Flap Valve once again demonstrates Nedermanís position as the industry benchmark.

Most modern manufacturing facilities rely on dust collection systems from vendors such as Nederman to provide a complete solution. Nederman has designed this new line of explosion isolation flap valves to meet the safety conscious combustible dust regulations.

All St1 Explosion Class Dust Types
Many explosion isolation flap valves can only be used for certain types of dust, thereby limiting the applications they can be used for and reducing future flexibility of the system. The most common type of limitation is the exclusion of metal dust. Nedermanís CARZ-N was designed, tested, and certified under EN16447:2014 to allow usage for all St1 dust types, including metal dust. Nederman is currently in the process of testing CARZ-N to achieve ATEX certification for St2 dust applications.

Push and Pull
Nederman understands that not all applications are the same, so providing flexibility is vital to supplying the most suitable and best solution to dust collection issues. For this reason, the Nederman CARZ-N is the only explosion isolation flap valve in its size range that can be used in both push and pull (positive and negative pressure) applications. In some applications, such as in the wood industry, a push installation can reduce electricity consumption and provide considerable annual savings through its particularly low operational costs.

Robust Design
The Nederman CARZ-N explosion isolation flap valve is constructed from welded steel and it is tested and certified for a maximum pressure of 1 bar pressure inside the valve. The robust build quality and ingenious design features of the new CARZ-N ensure that Nederman exceeds industry expectations in its pursuit for the utmost in quality, safety, innovation and environmental standards.