New Lines Grab Visitor Attention at MACH
19 April 2022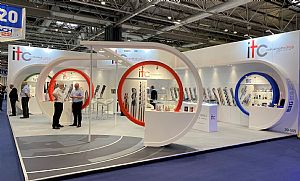 The return of the MACH exhibition provided a welcome boost to the industry, and as a leading UK manufacturer of cutting tools, Industrial Tooling Corporation (ITC) revelled in the opportunity to demonstrate all its latest innovations to an audience that was 'chomping at the bit' to get their hands on all the new technology.

MACH was the first opportunity for manufacturers to investigate all the new product lines and have face-to-face discussions with experts in a large scale exhibition environment. For ITC, its cutting tool experts certainly noticed a renewed vigour from engineers visiting the show and their appetite to learn more and invest in the very latest cutting tool technologies. Commenting upon the event, ITC Director Georgia Graves said: "Opportunities to have face-to-face meetings with the industry have been limited by Covid for too long. The timing of MACH has been perfect and our team of cutting tool experts has certainly witnessed their busiest MACH exhibition to date. The combination of limited contact with customers, potential customers and technology partners, and the build-up of countless new product lines that had yet to be seen by much of the industry were factors that created a huge wave of interest in all of the new technologies developed by ITC as well as our partners WIDIA, BIG KAISER, Kemmler and Bass. We are delighted with the lead generation and enquiry level from the show."

With an outstanding reputation for the quality, consistency and performance of its solid carbide end mills, drills and thread milling ranges; ITC engineers had a particularly busy event. One of the new ITC products that gathered immense interest was the 6054 Series of end mill developed specifically for the machining of steel and exotic material types. The geometry of the 6054 Series has a centre cutting geometry with harmonic fluting to maximise material removal rates and swarf evacuation whilst minimising vibration to enhance surface finishes and tool life. This chip evacuation is further enhanced by extremely efficient chip breakers. The 6-flute series 6054 Series is available with diameter options of 6, 8, 10, 12, 16 and 20mm with a length of cut from 18mm on the 6mm diameter tool through to 60mm on the 20mm diameter end mills.
With a team of WIDIA experts at MACH, the indexable insert line from this globally renowned brand was also extremely popular at the show. Of particular interest was the new WIDIA™ M1600 face mill series that received its MACH debut. Also proving to be a crowd-pleaser alongside the M1600 was the impressive M8065HD milling system for machining steel and cast-iron materials. Designed with eight cutting edges and extra-wide chip gashes, the new M8065HD can achieve unfathomable depths of cut while producing high metal removal rates during face and shoulder milling applications.

ITC has an unparalleled line of solid carbide and indexable drills in its armoury, and at MACH, this was evident with the expanded range of indexable inserts added to the Widia TOP DRILL™ TDMX modular drilling line. This expanded series was the perfect complement to the Tamworth manufacturers' ITC solid carbide drilling lines.

From the BIG KAISER stable, ITC introduced the expanded line-up of Smart Damper-equipped, arbour-style face mill holders that support face mills with diameters of 80mm or 100mm with an arbour pilot diameter of 27mm. The Model SDF57 assembly has an outside diameter of 71.8mm and allows users of 75mm face mills to access up to 500mm of reach, the longest tool assembly in the industry using standard components. Also from BIG KAISER was the Mega Synchro Tapping Chuck. The innovative new tapping chuck has a special function built-in to compensate for synchronisation errors that may occur during rigid tapping.

For engineers that didn't get the opportunity to attend MACH 2022, ITC would be delighted to update manufacturers on all the latest innovations that set the halls of the NEC alight with enthusiasm in April. For more information contact ITC or visit the website (www.itc-ltd.co.uk) to download the latest product catalogues or discuss your requirements with our experts.