Northern Print Company Finds Niche in Grand Format with AG/CAD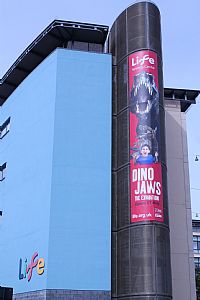 When Malcolm Cairns was faced with the prospect of redundancy from his managerial position at a print company, the entrepreneur took the initiative by setting up a print business from his garage with nothing more than a printer, a laminator and guillotine. Wind forward six years and Graphic Print & Sign (GPS) has found its niche as one of the UK's few print specialists that can offer grand format as well as standard print and finishing services.

The Newcastle business has progressively invested in roll to roll inkjet and flatbed UV printers to deliver growth, but the biggest step for the fledgling company was the recent acquisition of a Mimaki 3.2m roll-to-roll UV printer and a complementing 3.2m wide DYSS X7-3220C digital cutter from AG/CAD.

Commenting upon the strategy to invest in grand format, Mr Cairns says: "The majority of our work is for design and advertising agencies, sign-makers, litho printers and large format print companies that don't have 3.2m wide capacity. The Mimaki UJV55-320 was delivered in November 2016 and the DYSS X7-3220C Super Head followed in January. As a result, grand format work has grown rapidly to account for 20% of our business already, our subcontract costs have fallen and we are continually winning new customers."

After deciding upon targeting the grand format sector and selecting the Mimaki printer, the choice of digital cutter was quite straightforward. Referring to this, Mr Cairns recalls: "We knew that we wanted a 3.2m wide digital cutting table to complement the Mimaki, this immediately ruled out most machines. AG/CAD was one of only a couple of suppliers that could offer this width and the features we wanted, but we also required a machine with a length of 2m, due to limited floor area. Only AG/CAD listened to our precise requirements and were flexible enough to be able to offer an exact fit. This willingness to accommodate our needs ensured they won our business."

"With the digital cutting being a significant investment, we went to AG/CAD's Cheshire headquarters and did extensive trials. We took fabrics that we had printed on the Mimaki and then followed this with Dibond, acrylic, vinyl, Foamex, banners, meshes and even corrugated board. The demonstration certainly convinced us, it not only highlighted the customer orientated service from AG/CAD, but also the expertise offered regarding tooling options for all material types. The cut quality on all materials was outstanding. On top of this, AG/CAD's ability to supply the correct size machine and then guide us through technical factors such as appropriate tooling, suitable CAD software, plus the overall support and service really did seal the deal."
DYSS Cuts Costs for GPS
Producing vinyl, fabric and canvas graphics plus Foamex and Dibond (Aluminium Composite) panels for shopping and retail outlets as well as educational establishments, GPS has certainly found its niche in the North East region.
Prior to acquiring the DYSS X7-3220C, the family business was committing at least one member of staff to hand cutting on a full time basis. "As a relatively small company, we felt that the business was running us and not vice versa. It was very labour intensive and time consuming, but the DYSS has turned this on its head and given us the freedom to focus on other aspects of the business. This will enable us to grow in the longer term."

Production Director Jonathan Cairns says "From an efficiency perspective, our trio of Mimaki's would run vinyl and banner rolls overnight, but in the morning we could have a full day of hand cutting. Keeping pace with demand and the printers was proving increasingly difficult. For example, a 50m roll of vinyl would take around 4 hours to hand cut, it's now done on the DYSS in 20 minutes. So now, we arrive in the morning and the DYSS will get on and cut printed rolls and banners in a fraction of the time."

The variety of work at Graphic Print & Sign can change on a daily basis from 3m by 20m banners, 50m long rolls of vinyl or wallpaper through to runs of two hundred 8' x 4' Correx sheets, and much more. A considerable percentage of the work is straight line cutting, however profiled shapes that were once subcontracted out to local suppliers, are also now processed in-house.

Jonathan Cairns continues, "A lot of our work is fast turnaround and before we had the DYSS X7, all profile cutting was sent for external processing with an average lead-time of 3-4 days. This disrupted our workflow plus the extended and sometimes unreliable lead-times could be a concern for customers. The DYSS X7 has brought all this work in-house, enabling us to keep strict control of turnaround times that are often within 24 hours. The DYSS has removed this bottleneck and eased the pressure on supplying fast-turnaround work. Equally important for a small business like ours is the fact that bringing this type of work in-house is saving us over £1,000 every month on subcontracting costs."

DYSS Future Proofs Business For GPS
As one of a select few companies in the North East with both grand format print and matching digital cutting capabilities, the family business can also now run several "ganged up" jobs at the same time, or process two narrower width rolls simultaneously. This gives Graphic Print the ability to manufacture smaller sheet jobs or narrower roll jobs far more efficiently than its competitors. The benefit is that sign makers and litho printers are commissioning Graphic Print to cut fast-turnaround projects, because the production speed and lead-times are often better than traditional methods of designing, manufacturing and using cutting formes.

To ensure the DYSS X7-3220C handles longer-than-bed jobs accurately from a roll, the machine utilises the intelligent K-CUT Vision System to locate registration marks printed at various points along the roll media and then re-calibrates the cutting paths in accordance with the marks. Fully automatic, this procedure compensates for any drift or stretch on long print jobs to ensure optimal precision and repeatability.

Mr Cairns concludes, "Another key part of the system AG/CAD supplied is the KASEMAKE CAD software. From an early stage we appreciated its functionality, ease of use and its ability to integrate with common platforms such as Illustrator which helps to streamline our pre-press processes. The KASEMAKE 3D modelling feature even enables us to create 3D PDF files that give the customer an opportunity to review a virtual 3D prototype prior to production. This feature has already proven to be a competitive advantage when we are bidding for new business. We are winning the majority of enquiries and this can regularly be attributed to our skills with the KASEMAKE software."