SCHUNK 24V axis with electric holding brake
18 October 2017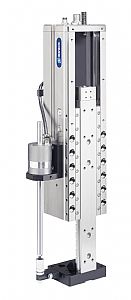 SCHUNK is expanding its 24V mechatronic modular system by including an important option, making it even easier to switch from pneumatic solutions to smart 24V technology. The ultra-compact SCHUNK ELP 24V linear modules are now available equipped with an electrically activated holding brake upon request.

In the event of a power failure, the brake reliably maintains the position of the linear module and prevents any unintended falling down of vertically arranged axes into the working area. This is comparable with pneumatic module rod locks, preventing damage to people, parts and system components. The holding brake allows the STO (Safe Torque Off) safety function to be executed. The linear module can also be stopped at full speed. The long-life brake works on a fully electric 24V basis and can be retrofitted to existing SCHUNK ELP linear axes if required. It is particularly suitable for systems that are switched on and off frequently. The holding brake is available in two sizes with holding forces of 70N or 180N.

The new standard in assembly automation
With its 24V technology and an integrated auto-learn function, the SCHUNK ELP linear modules defines a new standard in assembly automation. Instead of adjusting the throttle as with the pneumatic modules or loading new sequences as with electrically controlled modules, the linearly direct-driven ELP simply defines the end position mechanically. It also regulates the speed of extension and retraction on two rotary encoding switches. The auto-learn function takes care of the rest.

Two to five strokes are enough to complete the programming. During the learning process, the maximum possible speed for the current payload is calculated. The motion profile itself is designed as a ramp, i.e. the unit automatically accelerates and brakes depending on the overall stroke. Impacts, vibrations and uncontrolled driving at a maximum speed of the module are therefore excluded. If the component weight changes during the process, the axis automatically adjusts its movement profile within just a few strokes without requiring any user intervention.

As the control occurs via digital I/O, the SCHUNK ELP series is compatible with all controllers and can easily replace pneumatic modules. In combination with SCHUNK EGP small parts grippers and SCHUNK EGS rotary gripping modules, a modular system is now available that can be used to implement complete assembly solutions based on 24V technology.