SCHUNK Vise Proves Leading Position At Southern Manufacturing
15 February 2018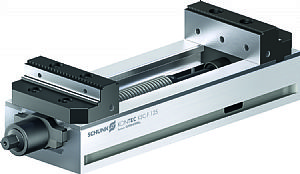 At the recent FIVE Farnborough Southern Manufacturing exhibition, SCHUNK, the competence leader for gripping systems and clamping technology gave a successful UK exhibition debut to its new KONTEC KSC-F single-acting vice and the KSC 6-jaw gripper vice. Well received by show visitors, the KONTEC KSC-F single-acting vices and the KSC 6-jaw gripper vice are the next generation in efficient workholding systems.

The impressive modular configuration of the KSC-F is credit to the VERO-S interface and the 160° quick clamping system that can be adapted to new clamping tasks in no time at all. This highly efficient all-rounder for raw and finished part machining is suitable for manual and automated machine loading. The new KSC-F proved extremely popular at the Southern Manufacturing show with a quick-adjustment of the clamping range, flat design and a lightweight and robust design. These attributes ensure the perfect conditions for use in pallet storage units. The sizes KSC-F 80, KSC-F 125, and KSC-F 160 are particularly designed for the common machine tool pallet sizes of 320x320mm, 400x400mm, and 500x500mm. The new KSC-F achieves high clamping forces even at a comparably low torque level.

Alongside the KSC-F, and something that certainly drew the attention of stand visitors was the new KSC 6-jaw gripper vise. The six-fold grip jaw system performs exceptionally well when processing high-strength materials and the safe clamping configuration can resist extreme lateral forces when machining difficult to process materials. With clamping forces up to 90kN, the new KSC delivers optimal stability for operations that require a low clamping depth, providing the end-user with exceptional access to the workpiece with vastly improved clearance between the workpiece and the clamping system. This impressive new KSC range of 6-jaw gripper vises is suitable for clamping workpieces up to 125mm wide and is undoubtedly the ideal addition to machine shops undertaking 5-axis machining. For more details on the SCHUNK KSC vises, please contact your local representative or come and visit SCHUNK at MACH 2018 on Stand H20-180.