Subcontract Machine Shop Start-up Benefits from ITC's Tooling Voucher Scheme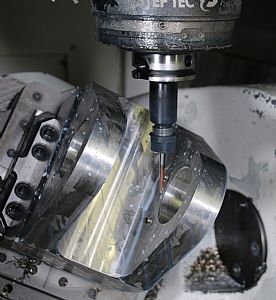 When two ex-work colleagues were working around the clock in their respective posts, the engineers and friends decided to set-up their own machine shop with the core philosophy of automated production and reduced man hours. To achieve this, Multax Engineered Precision bought its first machine in December 2016, a 10-pallet 5-axis Mikron HSM600U.

Winning their first order for 134 stainless steel pivot blocks for a marine customer before the machine was delivered on the 19th December, Multax had to hit the ground running. Relying on their experience from previous employment, Multax installed the Mikron, acquired hyperMILL CAM software from OPEN MIND and contacted Dave Cleeve from Industrial Tooling Corporation (ITC) for cutting tool support in the build up to Christmas. Commenting upon the inception of the new business, Company Director, Mr John McNab says: "As business partners, we exploit each other's niche expertise to drive the company forward. In the first month, we were under pressure to get the machine up and running to get our first order out. At this critical point, we knew the most reliable and trusted suppliers and we needed their expertise to deliver solutions. Dave Cleeve from ITC was central to this."

The Andover start-up had won an order for 134 stainless steel components that started as 146mm long billets with a 10inch diameter requiring 50kg of material removal to finish as 15kg parts. The company calculated that each part had a machining time of 8 hours, immediately justifying the company's investment in a multi-pallet machining centre capable of lights-out machining. "We knew that we had to achieve lights-out machining or our first job would run the risk of taking the majority of our capacity. To guarantee we could run unmanned, we needed cutting tools with reliable, consistent and efficient performance. ITC delivered the complete package," continues Mr McNab.

The ITC solution included a variation of Widia indexible insert tools and drills as well as the renowned range of ITC's, UK manufactured solid carbide end mills. Taking the complex stainless component from 65 to 15kg, ITC recommended the Widia M200 Series of button end mills. The 6 insert M200 series was purchased with a 50mm diameter for rough machining the pivot block whilst a 35mm diameter M200 was applied for helically interpolating a large bore through the parts.

For finishing the external features, ITC recommended the 50mm diameter Widia M1200 45 degree face mill. Commenting on these tools, Mr McNab says: "We have 50 tool positions on the Mikron, so we have one 35mm diameter tool for helical milling the bore and three 50mm button mills for roughing. We have set the tool life parameters at two hours per tool to guarantee consistent and reliable performance, but the inserts can last much longer. The M200 inserts have 6 edges whilst the double sided inserts in the M1200 cutter has 12 edges.

This makes the cost negligible. Our core aim is lights-out machining, so after one indexable tool has completed two hours, the next tool is used. At a cost in the region of £4 per insert for more than 16 hours of high material removal rough machining on stainless, the cost is so low there is little point trying to stretch tool life to compromise consistency and reliability."

As well as the indexable tools, Multax is also using the Widia VariMill 2, 20mm diameter 6flute solid carbide end mill for machining the side walls of a 90mm deep slot in the marine components. This roughing tool is followed by 4 and 12mm diameter ball nosed VariMill tools that are held in extra long Widia slim line tool holders for scanning the chamfer and removing the root radius at the base of the slot. In addition to the VariMill 2, Multax is also using 6, 12 and 16mm diameter four flute VariMill series of end mills for additional rough machining the marine part as well as other components loaded into the 10 pallet 5-axis machine.

Commenting on the performance of the ITC tools, Mr McNab says: "The tool life is exceptional and this gives us the confidence to run unmanned. Furthermore, the cost of the inserts is minimal and the surface finishes are outstanding. For example, we are pre-drilling an M8 thread with a 6.8mm diameter solid carbide VDS drill. This drill has processed 6 holes on each of the 134 parts. The drill is still like brand new and performing extremely well. Like the drills, many of the solid carbide ITC and Widia tools have been running since our business started in four months ago."

Supporting the Start-ups
As a start-up business, Multax has taken full advantage of the Widia Voucher Promotion Scheme that is available from ITC. The limited period offer gives customers heavily discounted prices on toolholders when they buy a new machine tool. With the cost of the capital equipment being considerable for small businesses, Multax has taken full advantage of the offer.

As Mr McNab concludes: "The voucher scheme from ITC has saved us over £10,000 on tooling our Mikron and the subsequent Bridgeport machine that we have just added. We've bought more than 60 collet chucks that include HSK63 ER16, 25 and 32 as well as face mill arbors and 100 and 150mm extensions for extra reach. The voucher makes these high-quality tool holders available at an extremely low price that is almost impossible to beat."

"ITC has given us the complete package. The Tamworth company has completely tooled our machines with bespoke solutions that deliver exceptional performance and reliability. Added to this, the service and technical support have been outstanding. ITC holds a huge level of stock and everything is available within 24 hours. We are now looking at implementing a consignment stock of premium tooling products from ITC. 99% of our tools are supplied by ITC and this is fully justified by the quality and support we have enjoyed," concludes Mr McNab.