Subcontractor enters new dimension with MultiSwiss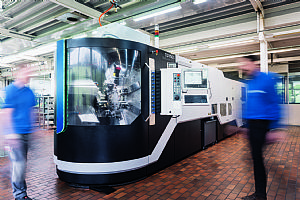 Established in Eschert, Switzerland in 1964, family-owned G&Y Leuenberger SA came under new management in 2014 with family member Boris Leuenberger, a young and enthusiastic engineer taking the reins. This period was a particularly troubled time for Swiss companies and even if the pressure is still to be felt, it has to be noted that the company has managed to respond to the situation with a significant investment, a new Tornos MultiSwiss 8x26 machine.

Thanks to its flexible structure, the company responds to orders from 500 to several million parts with diameters from 1 to 65mm. Materials such as brass, steel, stainless steel, titanium and even plastics can be machined and this shows the ability to adapt to the latest product developments and even the latest trends. G&Y Leuenberger SA produces meticulously designed parts that are used for the manufacture of luxury-brand products and this includes the luxury-product, equipment, connector and watch-making industries.

G&Y Leuenberger also produces customised magnifiers for watchmakers. "This is our sole finished product," Boris Leuenberger emphasises. Invented in 1995 by the former Managing Director, Yves Leuenberger, the body and ring are made of aluminum, which makes the magnifier light and pleasant to wear. The range of colors and versions is virtually infinite; anodized and engraved models can be produced. They are indispensable instruments and can be used as a high-end giveaway for any company active in the field of high-precision engineering.

In 2017, the company decided to apply for ISO: 13485 certification to extend its range of activities and make its expertise available to other sectors. Boris Leuenberger is convinced that G&Y Leuenberger SA's production experience and ability to work with its customers will appeal to this industry. "We specialise in solving problems and push the machining limits further. Besides, I would like to invite companies having machining problems to contact us as we are amenable to new challenges," the Managing Director continues.

The 45 employee business offers comprehensive services ranging from assembly to roller burnishing, polishing and anodizing as well as watch decoration. "Our strength is being able to free our customers from the need of subcontracting. In particular, we offer logistics solutions of all types. Upon request, we can implement Kanban stocking, consignment stocking and on call delivery." Mr Leuenberger explains.

To achieve all this, G&Y Leuenberger has a plant list that includes the new Tornos MultiSwiss 8x26, 23 Tornos DECO and EvoDeco machines from 10 to 32mm capacity, a Tornos SAS 16, 2 machining centers and 10 fixed-headstock machines.

Alluding to the arrival of the MultiSwiss, the managing director explains: "As a Swiss company, the economic environment we are operating in is rather complex. We compete with enterprises based in the Eurozone with a different cost structure. With the uncoupling of the Swiss France from the Euro in 2015, our prices rose by 15% overnight. We had to tackle the crisis and reinvent ourselves. All these constraints brought us to utterly rethink our strategy; we were looking for a means that enabled us to quickly respond to peaks in demand, a means to accelerate our production and a means of making us competitive."

"And that's how we came across the MultiSwiss 8x26 machine. Until then, our machine inventory consisted of single-spindle machines only. Of course, we could face demand peaks by using several Deco or EvoDeco machines, but this would be at the cost of the production schedule. Furthermore, with its 8 spindles and its multifarious back machining functions, the MultiSwiss 8x26 unites the productivity of 5 to 8 machines on minimum floor space while producing elaborate workpieces."

A machine boasting good accessibility
Boris Leuenberger continues: "The machine is extremely user-friendly. Programming is done with the TB-Deco software that we have been familiar with for many years. It can be set up in no time and thus is not only profitable for huge series runs but also ideal to respond to urgent demands comprising several thousands of parts."

And even if the machine seemed to be rather large, the company eventually recognized that it is much more compact than its competitors and does not need much more space than a single-spindle machine designed for Ø20mm parts with associated bar feeder. He adds: "The machine features unprecedented ergonomics. When entering the machining area, there is no need for the operator to worry about oil dripping on his head. In addition, the tool holders are easy to install and everything is close at hand. The MultiSwiss 8x26 is simply perfect. It can be set-up as quickly as a single-spindle lathe and only the replacement of the 9 collets takes a bit more time. However, the adjustment from the front makes this comparatively easy and fast."

Another league
The fact that the MultiSwiss 8x26 makes multi-spindle technology available to the operators of single-spindle lathes certainly poses some challenges as the operator enters a new dimension. The wear of the inserts is proportional to production output and chip management is more important. However, the MultiSwiss 8x26 has surprised the experts here as well. The hydrostatic technology allows a considerable reduction of insert wear.

Mr Leuenberger adds: "Moreover, we can now achieve surface finishes we never thought possible." The machine has an accessible machining area and is equipped with an outstanding chip conveyor that can efficiently discharge both long and short chips. The Managing Director summarizes: "With its low, medium and high-pressure pumps boasting a high flow rate and its large 2000-liter cutting oil tank that is heat-stabilized, the machine has the cooling capacity needed to tackle virtually all machining challenges."

High-quality service
The Managing Director concludes: "It should be noted that the Tornos service is simply excellent, especially with regards to the MultiSwiss 8x26. Commissioning the machine was quite easy and we feel that the technicians are fully receptive and ready to support us. They are doing an excellent job."