TaeguTec Chains Together Tooling Savings For FB Chain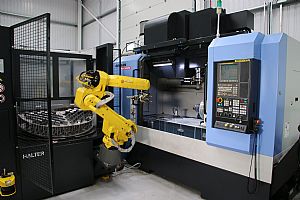 Since employing a new managerial team, FB Chain has undergone a transformation in the last five years that has seen the Letchworth company move to a new 15,000sq/ft factory and invest over £1m in new plant and equipment. The manufacturer of leaf chain anchor bolts has been growing annually with support for its lights-out production facility and help from TaeguTec.

Part of the growth strategy has seen the company invest in a series of new Doosan machining centres and turning centres with Halter robotic loading systems from ETG that incorporate fully integrated FANUC robotic arms. All aimed at delivering lights-out machining and cost-efficiencies; the continuous improvement program is heavily supported by both TaeguTec and local cutting tool distributor CNC Tooling.

The strategy is paying dividends, as the Hertfordshire Company has more than trebled its turnover in the last couple of years. This is on target for meeting the mid-term goal of taking FB Chain beyond £10m by 2020. FB Chain is part of the Scandinavian Addtech Group of companies which comprises about 120 independent companies that sell high-tech products and solutions to customers chiefly in the manufacturing and infrastructure sectors in around 20 countries. FB Chain is a world leader in the production of leaf chain anchor bolts, used in industrial lifting sector.

In the latest chapter for the company that was formed in 1985, FB Chain initially coped with growth by adding staff and introducing an extra shift pattern to increase output. Whilst initially successful ongoing growth soon filled this extra capacity, the agent of change was the arrival of Operations Manager Mr Nigel Eames on the production floor. Nigel changed the mindset of the production department and set about working faster and smarter to increase productivity further whilst reducing costs and shaving inefficiencies out of processes. This brought the arrival of a Doosan Mynx 5400 machining centre and the UK's first Halter robotic loading system. The immediate success soon brought about the second Halter robot loading system which was added to Puma 2600 turning centre.
Commenting upon the integration of automation, Mr Eames says: "We had one man running two machines but we acknowledged that continuous production was fully reliant upon the staff. By introducing robots we have increased productivity on one machine from less than 100 bolts a day to over 300 without increasing labour. This wasn't an overnight achievement. With the machines and automation giving us a level of unmanned machining, we realised that we had to turn our attention to our tooling suppliers to achieve true 'lights-out' production. Initially, we wanted to extend tool life, consistency and reliability with the eventual aim of also improving productivity and reducing costs."

FB Makes a Right Turn With TaeguTec
It is here that TaeguTec stepped into the fray. Typically, FB Chain produces steel leaf chain anchor bolts from M10 to M52 in lengths from 75mm to 550mm with the bolt heads incorporating varying slot widths and features on the heads that extend to 120mm diameter. The first opportunity for TaeguTec to prove its expertise arrived on the Doosan Puma 10C turning centre. The existing supplier of turning tools was witnessing uncontrollable swarf issues on 817M40T steel. Unable to break the stringy swarf, TaeguTec offered a solution with its TurnRush indexable turning line.

The chip breaker geometry on TaeguTec's TT8115 grade CNMX TurnRush instantly freed the operator to undertake setting or loading tasks on other machines without constantly untangling swarf from the work envelope or disposing of stringy swarf from a single machine. From a performance perspective, the four edged TurnRush inserts enabled FB Chain to increase tool life from two parts per-edge to three, giving a total of 12 parts per insert as opposed to the previous two parts. Additionally, the feed per revolution was increased from 0.3mm to 0.38mm, resulting in a 20% cycle time improvement as well as a 20% cost saving of over £900 per batch of 1000 bolts. This successful first step gave TaeguTec and CNC Tooling an opportunity to trial more tools.

Remaining in the turning department, engineers from TaeguTec and CNC Tooling turned their attention to a Doosan Puma DC2100 turning centre that was also suffering from excessive downtime caused by swarf wrapping around the parts and tools as well as the consequent swarf clearance. Applying a single edged T-Clamp part-off tool running at a machining depth of 24mm on a batch of 10,000 anchor bolts; TaeguTec delivered a huge improvement with its 3mm wide TT9080 grade insert. Not only did the new TSC 3 insert extend tool life to achieve 120 parts per edge from the previous 50, the T-Clamp also increased machining parameters from 0.04mm/rev to 0.08mm/rev, returning a significant productivity improvement whilst reducing the cost per 10,000 batch of anchor bolts by a staggering £2689.

Since this initial success, 30 employee FB Chain has now implemented the 3 and 4mm wide T-Clamp inserts and toolholders on all its turning centres. Commenting upon the savings in the turning department, Mr Eames says: "We have achieved some spectacular cost reductions through trialling TaeguTec's T-Clamp and Quad Rush. However, the underlying bonus is the ability to confidently run our turning department unmanned without being concerned by swarf management issues and inconsistent tool life. We can now set our turning centres at the end of a shift and they will run unattended until the barfeeders are empty and this is often 6-8 hours of trouble-free unmanned production."

Making its first venture into the milling department, TaeguTec initially trialled its indexable head DrillRush, which was set against an industry leading drill manufacturer. Applying the 8.1 and 9.7mm diameter indexable drills, TaeguTec's DrillRush processed over 800 holes before requiring a head change. The previous vendor was using a solid carbide drill to attain an inconsistent tool life of 400 to 600 holes. Referring to this Mr Eames says: "We were all surprised by how TaeguTec categorically beat an industry renowned drill manufacturer by giving us a tool life improvement of up to 75%, drilling for over 140 minutes per insert on steel. Once again, TaeguTec helped us to achieve our target of consistent, prolonged and reliable machining for lights-out production. Furthermore, the indexable tool eliminated re-setting operations that are a necessity with solid carbide tools."

TaeguTec Slots in as Number One
Keen to instigate further costs savings and productivity gains, TaeguTec trialled its highly regarded Top-Slot milling range for processing slots on the end of the bolts. Comparing its 10 insert 100mm diameter slotting tool against a like-for-like rival, TaeguTec engineer John Handley doubled the parts per insert edge from 300 to 600, resulting in over 2400 parts for each set of the four sided inserts compared to the competitors paltry 1200 parts.

Additionally, the Top-Slot increased the feed rate from 0.07 to 0.11mm/tooth, reducing the cycle time from 1 minute per part to 32 seconds. On a regular batch of 5000 bolts, the Top-Slot has reduced the insert cost per batch by over £240 whilst the improved cycle time has resulted in a total saving of £1400 per batch, a 38% improvement. "Compared to a competitor tool that was obtaining a tool life of 120 minutes production, the Top-Slot is achieving 250 minutes per insert edge and this is what we need for lights-out production," continues Mr Eames.

TaeguTec is now in a trusted position at FB Chain whereby the collaboration between customer, supplier and distribution agent is a symbiotic relationship. The relationship has blossomed with a multitude of new developments continually being implemented to improve productivity, tool life and reduce costs with a core aim of extending the unmanned running. Concluding on the partnership, Mr Eames says: "We've been delighted with the support from TaeguTec and CNC Tooling The technical partnership has reaped significant benefits for our business and we have since installed a CTMS vending machine to control and measure our consumption. In the longer term, TaeguTec will continue to introduce new tooling developments to our business and this will certainly bring more sizeable gains whilst ensuring we stay abreast of technology."