Vollmer Expands UK Team
15 December 2017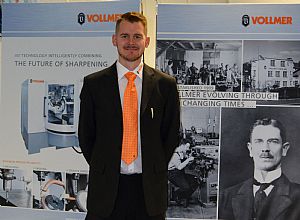 Vollmer, the cutting tool and saw blade sharpening experts have now expanded the UK team to enhance both the service and sales operations of the Sandiacre based business.

The manufacturer of precision grinding and erosion machine tools has employed Shaun Hill as its latest addition to the service department whilst longstanding service engineer Kieran Rosling has moved into the technical sales department. As a youthful engineer, Mr Hill has hit the ground running with the Vollmer technology and is already proving a welcome addition to the team.

To accommodate the new service engineer, Kieran Rosling has been rewarded for 10 years of outstanding service at Vollmer with a Technical Sales Engineer role. Kieran joined Vollmer in 2008 after serving a manufacturing apprenticeship with Slack & Parr and taking in a spell as a development engineer with globally recognised Balfour Beatty. Kieran brought this experience to Vollmer in January 2008 and has proven an extremely valuable member of the team ever since.

Kieran has spent the last six years of his duration at Vollmer UK, servicing and supporting the PCD erosion and grinding machine tool division. He will now take this intimate expertise and insight of Vollmer products to the industry in a sales engineering capacity. Commenting upon Kieran being promoted to the Technical Sales Engineer role, Vollmer UK's Managing Director, Mr Peter Allen says: "We are delighted to be in a position to expand our UK team, giving a youthful new engineer a great opportunity to join a world leading manufacturing business whilst also rewarding the hard work of Kieran with a Technical Sales role. Kieran is looking forward to the challenge of the new position and his unrivaled service and support knowledge of Vollmer technology will put him in a great position when promoting the brand to new and existing customers."

"Having an experienced engineer that understands the Vollmer brand, the machine tools, technology, ethos and the customer base is a great asset. Kieran will be able to promote the benefits of the brand whilst supporting the customers through their decision process to ensure the end users acquire the most suitable solution for their tool and saw blade sharpening requirements."

Kieran will be supporting customers in both the woodworking and metal cutting industry sectors throughout the Midlands and the South of the UK. If you have a need for tool and saw blade sharpening technology, why not give Kieran a call at Vollmer UK.