Vollmer Tools Up for MACH With Vgrind Premiere
16 February 2018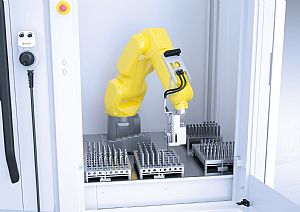 At MACH 2018, Vollmer UK will be taking cutting tool and saw blade production to a new plateau with the UK exhibition premiere of the latest Vgrind 360 tool grinding machine and the Loroch K850-M for processing metal-cutting saw blades.

On Stand H20-160 at the Birmingham NEC from 9th to the 13th April, the world leading innovator in grinding and erosion technology for saw blade and cutting tool production will be giving a UK exhibition debut to the Vgrind 360. The next generation Vgrind 360 is the successor to the Vgrind 160 model, now equipped with enhanced travel distances for accommodating carbide drills and milling cutters whose blanks are made from either solid carbide or carbide-tipped steel bodies up to 200mm diameter.

With groundbreaking kinematics that incorporates two vertical spindles, the Vgrind 360 allows multi-level machining. This gives customers the facility to produce large numbers of milling cutters and drills quickly and precisely. The Vgrind 360 at MACH 2018 will be demonstrated with the HPR 250 free-arm robot loading facility. However, other automated solutions such as the HP 160 pallet magazine to supply up to 272 workpieces for around-the-clock, unsupervised machining are also available.

At MACH 2018, the Vollmer UK team will be highlighting the benefit of the two vertically arranged spindles over competitor machines that operate with a single spindle or horizontal double spindle. The vertical arrangement from Vollmer improves precision as the cutting tool is only ever machined on the fixed bearing side of the grinding wheel set. Furthermore, the grinding wheel set is always located on the C-axis pivot; this drastically improves the precision of the sharpening process. With this configuration located upon a polymer concrete foundation, unparalleled damping and vibration characteristics are guaranteed. All this ensures the new Vgrind 360 delivers far superior surface finishes and accuracy for cutting tool manufacturers.

With regard to productivity, the VGrind 360 achieves perfect interpolation through five perfectly harmonised CNC axes that have short travel distances and swivel ranges for all axes. This reduces processing times as non-productive times are slashed. Furthermore, the two grinding spindles can be loaded with different tools whilst an optional tool magazine with eight grinding wheel packages allows tools on the vertical spindles to be automatically changed. The exciting new Vgrind 360 utilises the NUMROTOplus software system that offers extensive options for the production and re-sharpening of tools.

If you are involved in the production or sharpening of saw blades or rotary cutting tools, Vollmer has an unparalleled reputation for quality, innovation and service that will be on show at MACH 2018. With three machines making a UK exhibition debut at MACH, please visit the Vollmer Stand H20-160 to see why the world's leading cutting tool manufacturers are all chosing Vollmer as its preferred productivity partner.